Amazon's Palm Payment Tech for Whole Foods Stores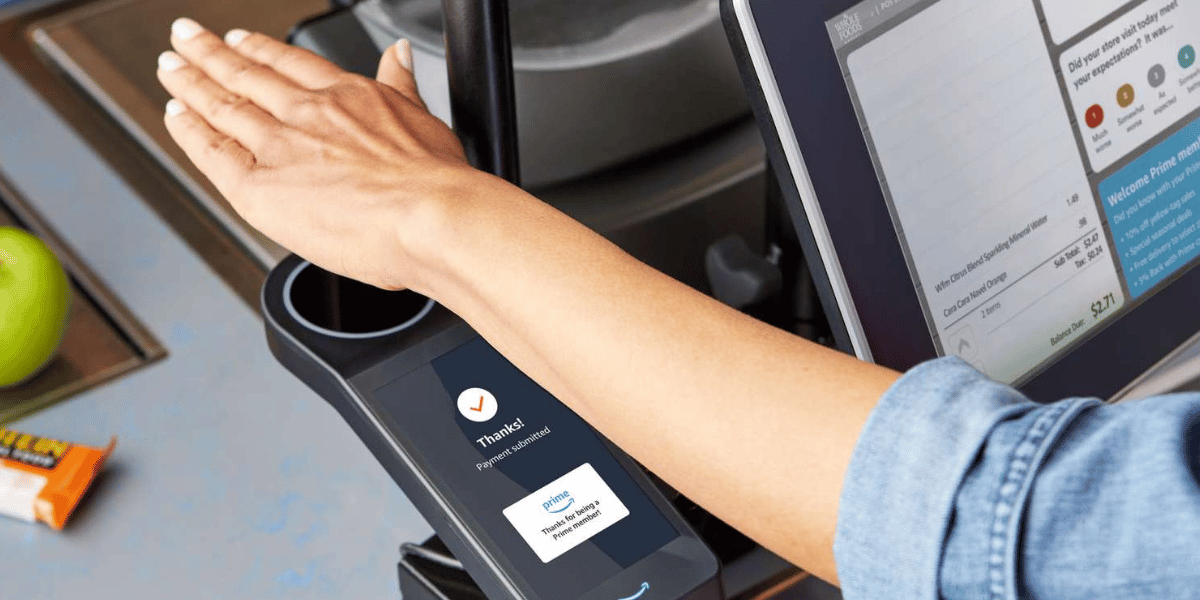 Amazon is bringing its palm-scanning technology to more Whole Foods stores. By the end of this year, you'll be able to pay for your purchase using just the palm of your hand at over 500 Whole Foods locations throughout the US.
The palm-scanning tech is part of Amazon One, a service that links your Amazon account and payment information to your palm print. Once your palm print is in Amazon's system, you can hover your hand over an Amazon One scanner, and it will charge the payment method tied to your Amazon account.
First introduced in some Go stores, the tech later made its way to over 200 Whole Foods locations in California, New York, Texas, and other states. It's also been adopted by restaurants like Panera Bread and travel retailers like Hudson, CREWS, and OHM. Amazon's palm-scanning technology is expanding to offer customers a convenient and secure payment option across various retail settings.
Amazon One Expands Palm-Scanning Payments to Whole Foods Stores
Amazon One has been steadily rolling out to Whole Foods locations before the recent announcement. The palm-scanning technology is available in over 200 Whole Foods Markets across the U.S., including states like Arizona, Arkansas, California, Colorado, and more. The nationwide expansion is expected to be completed over the latter half of the year.
With the integration of Amazon One at Whole Foods, shoppers can purchase without needing their wallet or phone. Instead, they can use their palm to pay, offering a convenient and secure payment option. Furthermore, Prime subscribers who link their Amazon One profile with their Amazon account will enjoy automatic savings as a membership perk.
Recently, Amazon unveiled an additional feature for the palm-scanning system: age verification. Customers can now use the device to purchase adult beverages, such as beer at a sports event, by hovering their palms over the reader. Coors Field first adopted this version of the system in May. However, it remains to be seen whether this feature will also be available at Whole Foods, or if customers will need to show their ID to store staff, as is common with most other self-checkouts.
Paying with your palm via Amazon One is a pretty great experience, and customers have been "voting with their palms" for many months now. By end of year, you won't need your wallet to pay when checking out at any of the 500+ U.S. @WholeFoods. https://t.co/fizfZIDo3P

— Andy Jassy (@ajassy) July 20, 2023
Customers can quickly enroll in the Amazon One system via the web, using their credit/debit card, Amazon account, and mobile number in about a minute. Major U.S. banks like American Express, Discover, Mastercard, and Visa are part of the system. When visiting a participating Whole Foods store, customers complete enrollment by scanning their palm over the Amazon One device. Alternatively, they can register directly in-store. Amazon assures that customer information is securely stored in its AWS Cloud, protected by robust security controls, and the palm image is not used for identification; instead, a unique "signature" is used for identity matching based on vein patterns.
"We are always looking for new ways to delight our customers and improve the shopping experience," said Leandro Balbinot, chief technology officer at Whole Foods Market, in a statement about the expansion. "Since we've introduced Amazon One at Whole Foods Market stores over the past two years, we've seen that customers love the convenience it provides, and we're excited to bring Amazon One to all of our customers across the U.S."
Palm Payment Allows Secure Biometric Payments & Personalized Experience
Amazon emphasizes the security of customer information within its AWS Cloud, safeguarded by robust security controls. The palm-scanning technology does not utilize the actual palm image for customer identification; instead, it relies on a unique palm "signature" generated from the underlying vein pattern, resulting in a numerical, vector representation for precise identity matching.
Beyond expediting checkout lines, Amazon's foray into biometric payments serves a more comprehensive purpose. By amalgamating biometrics, payment card data, and Amazon accounts, the system enables comprehensive tracking of customers in both online and offline settings. This vast data pool empowers Amazon to deliver highly personalized ads and recommendations, thus boosting its revenue potential through enhanced customer engagement and targeted marketing strategies.
Amazon's palm-scanning payment technology marks an exciting milestone in the evolution of retail payment systems. With its commitment to convenience, security, privacy, and inclusivity, the technology promises to redefine the shopping experience at all 500+ Whole Foods stores. As we embrace the advent of biometric payment solutions, it is essential to maintain a delicate balance between innovation and safeguarding the rights and interests of consumers. Amazon's pioneering efforts in this field set an example for the industry, emphasizing the importance of responsible and customer-centric technological advancements.
Learn more at Amazon