Apple Releases iPadOS 17: Customizable Widgets and More!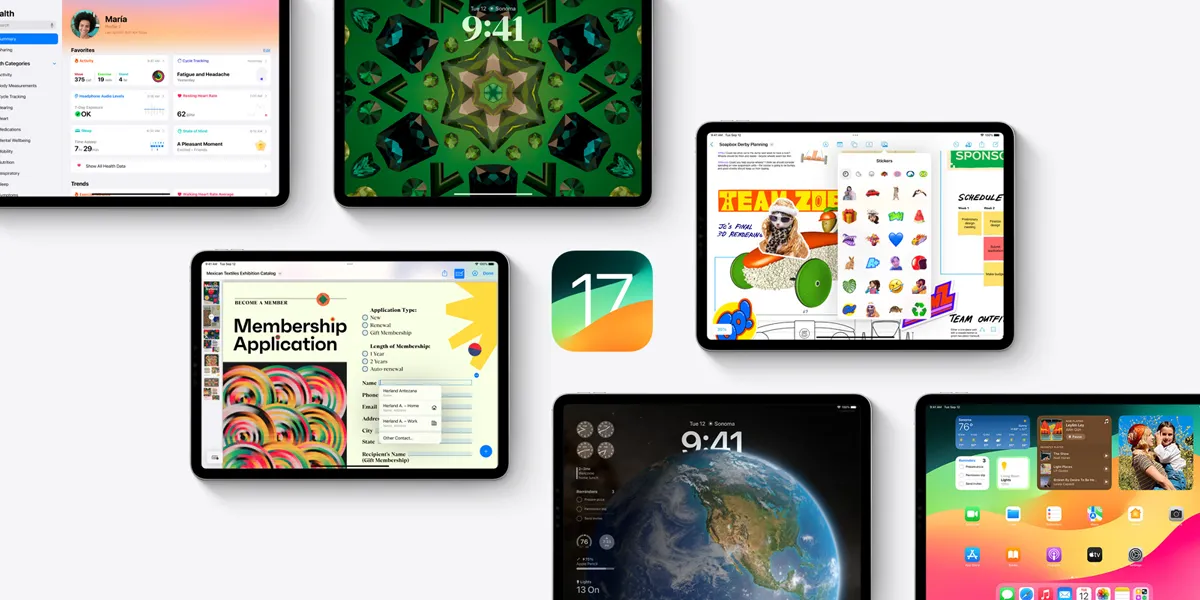 To reshape the iPad experience for millions of users, Apple has officially launched iPadOS 17, introducing a range of exciting features that enhance customization and productivity. iPadOS 17 is now available for a range of iPad models, including the iPad Pro (2nd generation and later), iPad Air (3rd generation and later), and iPad (6th generation and later).
Redesigned Lock Screen with Widgets
iPadOS 17's revamped lock screen puts customization front and center. With widgets now available, users can tailor their lock screen experience like never before. In portrait mode, these widgets appear on the left side of the screen, providing rapid access to essential information. For instance, you can stack widgets showcasing calendars, world clocks, reminders, real-time weather updates, and more. This allows you to craft a personalized dashboard of indispensable data.
These go beyond displaying information – you can now act without unlocking your device. For instance, set timers, control your music playback, manage your smart home devices, or mark tasks as completed right from the lock screen.
Live Activities, a striking feature of iPadOS 17, keeps you updated in real time. Whether it's tracking your Uber Eats order, staying on top of sports scores, or managing multiple timers simultaneously, this feature ensures you're always in the loop.
Stage Manager Flexibility
The Stage Manager, introduced in a previous update, now grants users greater flexibility in organizing their app windows. While the number of apps you can add to one stage remains at four, the improved resizing options make multitasking more efficient.
Imagine working on a document in one window while watching your email and calendar in others, all on your iPad.
PDF Handling and Digital Signatures
Managing PDFs and scanned documents has also become more efficient with the new autofill feature for fields such as name, address, email, and phone number. Additionally, users can add digital signatures to documents using the Apple Pencil, further simplifying paperwork tasks.
Health App Optimized for iPad
Apple extends its Health app to the iPad, offering users a more comprehensive view of their health and wellness data on the bigger tablet screen. This development in user experience is likely to encourage users to take charge of their well-being.
External Mic and Camera Support
For content creators and streamers, iPadOS 17 introduces the exciting ability to connect USB microphones and cameras, offering exciting new opportunities. For instance, they can live-stream with professional-grade audio and video quality. Apps like Camo Studio for iPad will also leverage this capability.
Beyond the headline features, iPadOS 17 also introduces ML-powered autocorrect, live stickers in messages, offline maps, an updated notes app with PDF support, and live collaboration features, including mood tracking.