Mercedes-Benz enhances in-car voice control to a higher level with the integration of ChatGPT technology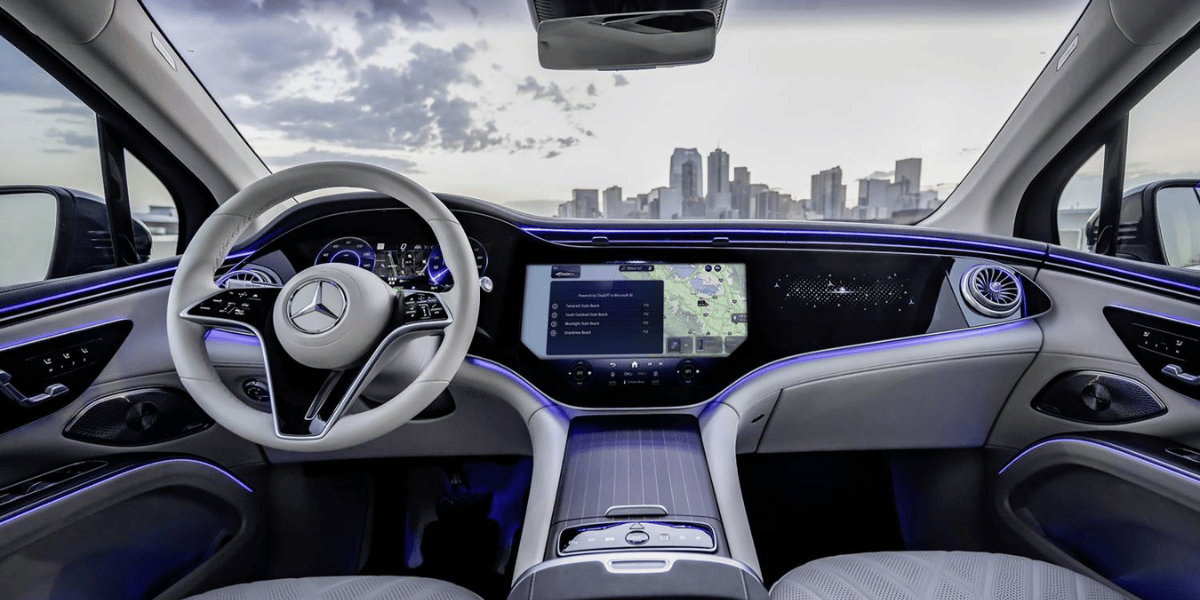 Mercedes-Benz is integrating artificial intelligence into its MBUX Voice Assistant, making the Hey Mercedes voice command feature more user-friendly. Starting June 16, 2023, over 90,000 US vehicles with the MBUX infotainment system can participate in an optional beta program. Mercedes-Benz is incorporating ChatGPT through Azure OpenAI Service, utilizing Microsoft's cloud and AI platform. Customers can sign up using the Mercedes Me app or by uttering "Hey Mercedes, I want to join the beta program" into their car. The beta program will be available over the air.
Mercedes-Benz MBUX Voice Assistant offers an easy-to-use operation, prompts, and industry standards. It provides sports, weather updates, local area answers, and home automation for drivers and passengers. Hey, Mercedes' natural voice control is improved by ChatGPT, which features a powerful language model for improved understanding and broader topics, unlike most voice assistants that limit responses to predefined tasks.
Mercedes-Benz integrates ChatGPT's natural dialogue format with MBUX Voice Assistant's validated data, providing users with a voice assistant capable of holding conversations and taking commands. This comprehensive response ensures users stay focused on the road while addressing complex questions and information about their destinations.
Mercedes-Benz integrates ChatGPT with Microsoft's Azure OpenAI Service, utilizing OpenAI's generative AI models and Azure's enterprise-grade security, privacy, and reliability capabilities. Mercedes-Benz controls back-end IT operations, anonymizing and analyzing voice command information before storing it in the Mercedes-Benz Intelligent Cloud.
Mercedes-Benz Group AG is incorporating ChatGPT with Microsoft in its managed cloud environment focusing on customers' satisfaction with digital lives revolving around their cars. The beta program enhances Hey Mercedes features, like navigation and weather requests, to encourage natural dialogues and follow-up inquiries. Mercedes-Benz Group AG ensures data privacy protection and redefines customer relationships with their cars.
Mercedes-Benz provides customers early access to advanced technology through a three-month U.S.-focused beta program. Engineers will gain valuable insights on specific requests, establishing priorities for voice control advancement. The intuitive voice assistant will be enhanced, and the rollout strategy for large language models will be determined.
ChatGPT is a Generative Pre-trained Transformer (GPT) consisting of large language models trained to write, summarize, respond to questions, translate, and produce program code using OpenAI's neural network. Mercedes-Benz integrates ChatGPT with AI principles, monitoring risks and enhancing system functionality for customer advantage. The company prioritizes the responsible use of generative AI solutions, ensuring the company's customers receive the benefits of cutting-edge AI solutions.
Data transmission from a vehicle requires signing a Mercedes me connect contract and activating desired services in the Mercedes Portal or App. All models and models fall under this rule, with exceptions for the Mercedes-Benz emergency call system and information and breakdown call.
News Source: Mercedes-Benz