Lantern: B2B platform merging CDP and customer success tools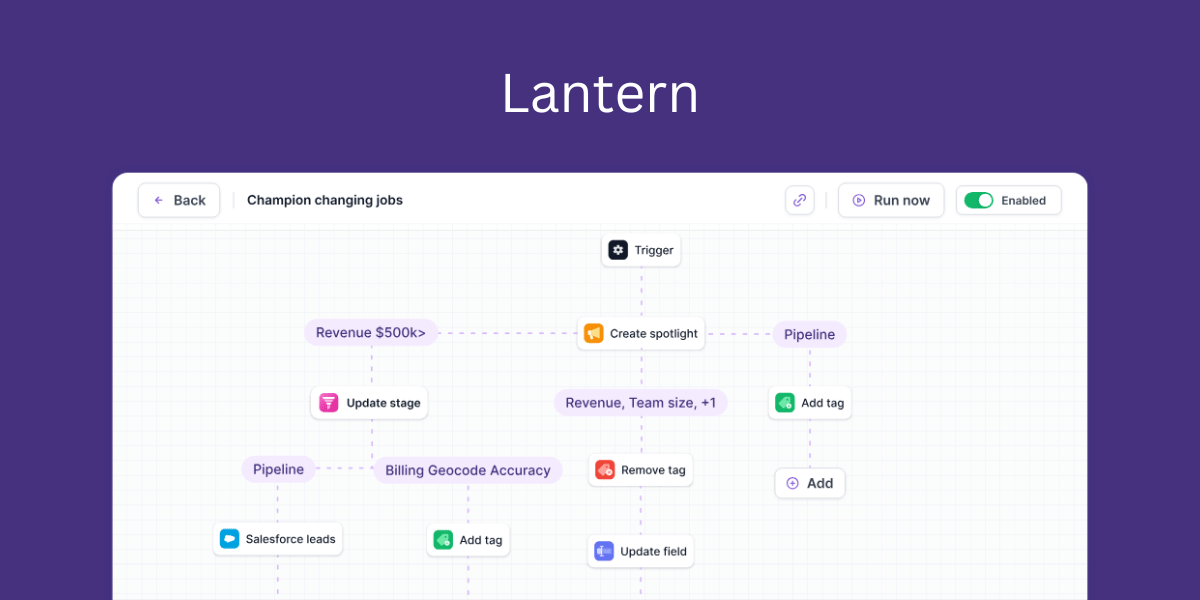 In the dynamic world of business-to-business (B2B) marketing, understanding your customers and ensuring their success is paramount. Recognizing this need, Lantern, a leading technology company, is set to revolutionize the industry with its innovative B2B platform that combines a Customer Data Platform (CDP) and customer success tools in a professional and up-to-date manner. By seamlessly integrating these two essential components, Lantern empowers businesses to achieve superior customer satisfaction, retention, and growth.
Lantern, the innovative B2B platform, recently announced a significant milestone in its journey, disclosing a $6.8 million seed round of funding. This funding includes an undisclosed $1 million portion from 2017, with the remaining funds closed in November. This infusion of capital will propel Lantern's mission forward and drive further development of its customer-centric solutions.
David Bromberg, the visionary founder of Lantern, envisioned a platform that would seamlessly integrate a customer data platform (CDP) explicitly tailored for B2B businesses with customer success solutions. The goal was to enable companies to leverage their data sources effectively, making accessing and utilizing valuable customer insights simple.
Central to Lantern's offering is the ability for customers to select from a wide range of data sources
Currently, the company provides 50 data connectors, ensuring compatibility with various systems and enabling businesses to capture comprehensive customer data. By consolidating these diverse data points, Lantern's platform offers a holistic view of customers, empowering enterprises to gain deeper insights into their behavior, preferences, and engagement patterns.
To further enhance revenue outcomes, Lantern is continuously developing a suite of tools designed to help businesses better understand their consumers and capitalize on the data already present in the CDP. These innovative technologies aim to deliver tangible results and drive revenue growth.
"What we're trying to do is create this new hub that can track time-series customer data, and in just one click, connect to every single data source your team is using," said Bromberg.
Lantern empowers customers to leverage their diverse data sources by offering 50 data connectors within their platform. By consolidating this data in their CDP, Lantern is actively developing a suite of tools to enhance customer understanding and drive revenue growth. Among these tools, one aids in the identification of customers who are most receptive to upselling opportunities. Additionally, the latest tool assists sales professionals in locating customers who have recently transitioned jobs, automatically generating leads to engage them at their new accounts. These innovative offerings from Lantern enable businesses to gain valuable insights and capitalize on revenue-generating opportunities.
Lantern, with a current team of twelve, is poised for growth and plans to expand its workforce by hiring more engineers and go-to-market professionals. Founder David Bromberg is dedicated to fostering diversity, with the current cap table already consisting of 60% women—a delightful surprise. Bromberg is committed to maintaining and enhancing this gender balance as Lantern continues to build its workforce and shape its company culture.
"We were looking to find the best people around the table, who are knowledgeable, and they just happened to be women. In terms of our company, we're taking the same approach. We're trying to bring the best people around and that also happens to be pretty diverse too," said CEO, Bromberg.
Today's impressive $6.8 million seed funding round was spearheaded by industry-leading investors, Primary Ventures and Moxxie Ventures, reaffirming the immense potential of Lantern's innovative B2B platform. The funding round attracted notable participation from 8VC, 8-Bit Capital, Coalition, and a cohort of renowned industry angels. This diverse group of investors brings substantial financial support and valuable expertise and networks to propel Lantern's growth and solidify its position in the market.
New source: Lantern