Kakao Revolutionizes Image Generation with Karlo 2.0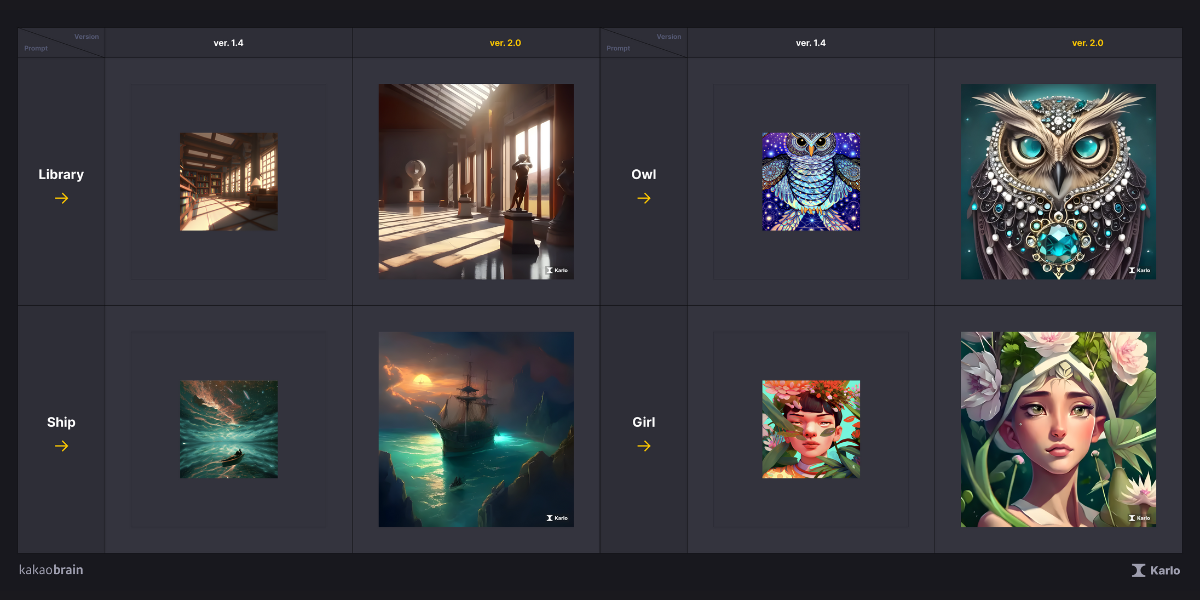 Kakao Brain, the esteemed artificial intelligence (AI) research and development subsidiary of Kakao Corp., has unveiled its latest groundbreaking innovation, Karlo 2.0. This remarkable AI image generation model aims to redefine the boundaries of artistic expression by leveraging the power of generative AI technology.
The Power of Karlo 2.0
Karlo 2.0 uses generative AI to transform textual descriptions into visually captivating masterpieces in just three seconds. Leveraging its extensive training on a dataset of approximately 300 million texts and images, this AI tool demonstrates unmatched power in transforming textual descriptions into visuals.
Precision and Realism
Karlo 2.0 excels in language comprehension, accurately interpreting complex prompts and capturing small details. Users can explore various image sizes, resulting in immersive and detailed representations of different subjects, with a maximum resolution of 2048×2048.
Karlo 2.0 stands out with its ability to capture spatial depth, 3D elements, and intricate textures like animal fur. This unique capability enables the AI artist to produce lifelike images virtually indistinguishable from reality. Furthermore, Karlo 2.0 expertly replicates various artistic movements, including the coveted "modern artist" aesthetic, giving users a variety of creative alternatives.
Enhanced Developer Experience
Kakao Brain has released the Karlo 2.0 open application programming interface (API) on Kakao Developers as a sign of its dedication to promoting the development of the AI ecosystem. This move empowers developers to unlock the full potential of Karlo 2.0, revolutionizing the image generation process. Advanced prompt comprehension features provide control, customization, and precision in image generation.
Supporting Innovation and Collaboration
Kakao Brain has increased the monthly cap of free generated images from 500 to an astounding 600,000 in a remarkable act of support for developers and start-up businesses. Kakao Brain encourages innovation and collaboration within the AI community through this free image generation. The launch of Karlo 2.0 opens up new possibilities for creative industries and transforms how images are created and consumed.
The Future of Image Generation
The adaptability, increased speed, and accessibility of Karlo 2.0 through the open API give developers and start-up businesses a chance to innovate and use AI-powered images. This impressive breakthrough further solidifies Kakao Brain's status in AI research and development. Moreover, Kakao Brain continues to influence image-creation technologies by promoting the expansion of the domestic AI ecosystem.
Kakao's Karlo 2.0 is set to revolutionize how we perceive and create visual art in a rapidly evolving technological landscape.
News Source: Kakao