Polar Analytics raises $9M for cutting-edge data analytics platform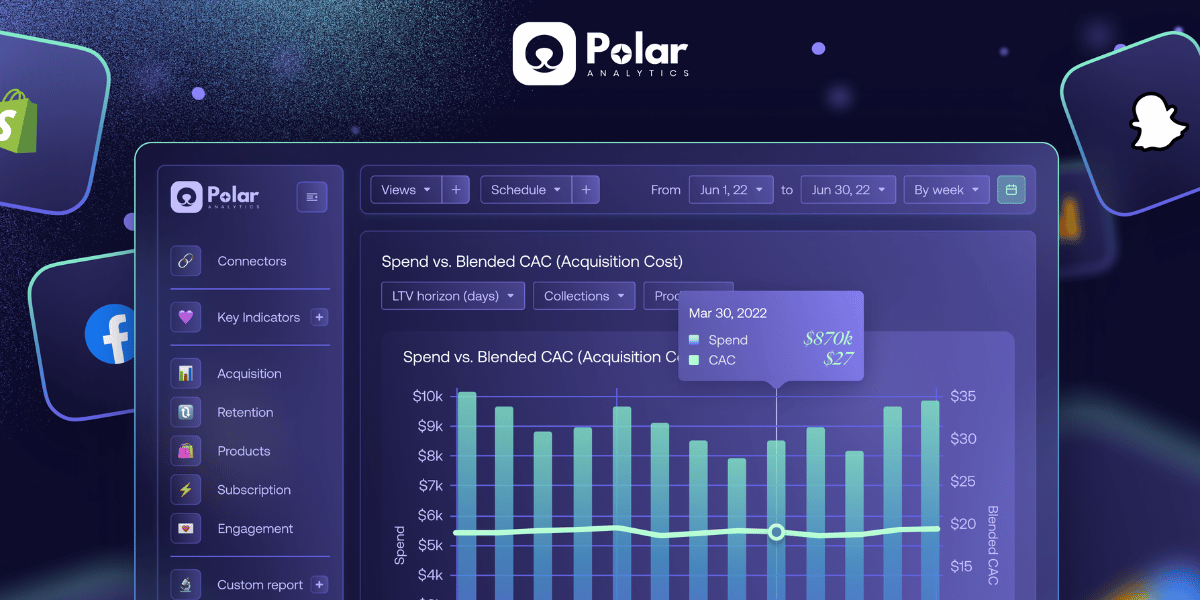 Polar Analytics' cutting-edge data analytics platform is designed to provide Shopify brands with actionable insights and data-driven strategies to optimize their online businesses. By harnessing advanced data analytics, the company helps brands identify trends, understand customer behavior, and fine-tune marketing efforts for maximum impact.
The $9 million funding will enable Polar Analytics to scale its operations and further develop its data analytics tools to meet the growing demands of Shopify brands. The company plans to invest in talent acquisition, enhance its technical capabilities, and expand customer support services to provide a seamless experience for its clients.
CEO and Co-founder of Polar Analytics, Sarah Johnson, expressed her excitement about the funding round and the company's mission:
"This investment is a testament to the value we bring to Shopify brands by helping them navigate the complex world of e-commerce through data-driven insights. Also, our goal is to empower brands to make informed decisions, boost their online performance, and reach their full potential in the digital market."
Polar Analytics offers a competitive suite of tools.
As the e-commerce industry continues to witness rapid growth, data-driven decision-making has become vital for businesses to stay ahead of the competition, the platform offers a comprehensive suite of tools, including real-time dashboards, customer segmentation analysis, and performance tracking, all tailored to help Shopify brands make strategic business decisions.
Polar Analytics has already earned recognition for its success in supporting a diverse range of Shopify brands across various industries. The company's innovative platform has helped businesses optimize online stores, enhance user experiences, and drive growth through data-driven marketing campaigns.
The funding round was led by prominent venture capital firms that recognized the immense potential of Polar Analytics to revolutionize the e-commerce landscape; also, the investors' confidence in the company's ability to empower Shopify brands has further validated Polar Analytics' position as a critical player in the data analytics space.
As the e-commerce industry continues to evolve, Shopify brands are increasingly seeking efficient and data-driven solutions to navigate the complexities of online retail. The teams' data analytics platform fills this crucial gap, offering brands the tools to make well-informed decisions and drive business growth.
With the $9 million funding, they are poised to embark on an exciting growth trajectory, expanding its reach and impact in the Shopify ecosystem. As the company scales its services and tools, it will play a pivotal role in empowering Shopify brands to harness the full potential of data analytics and thrive in the highly competitive e-commerce landscape.
News Source: Polar Analytics