2025 Cadillac Escalade IQ: Luxury EV Unveiled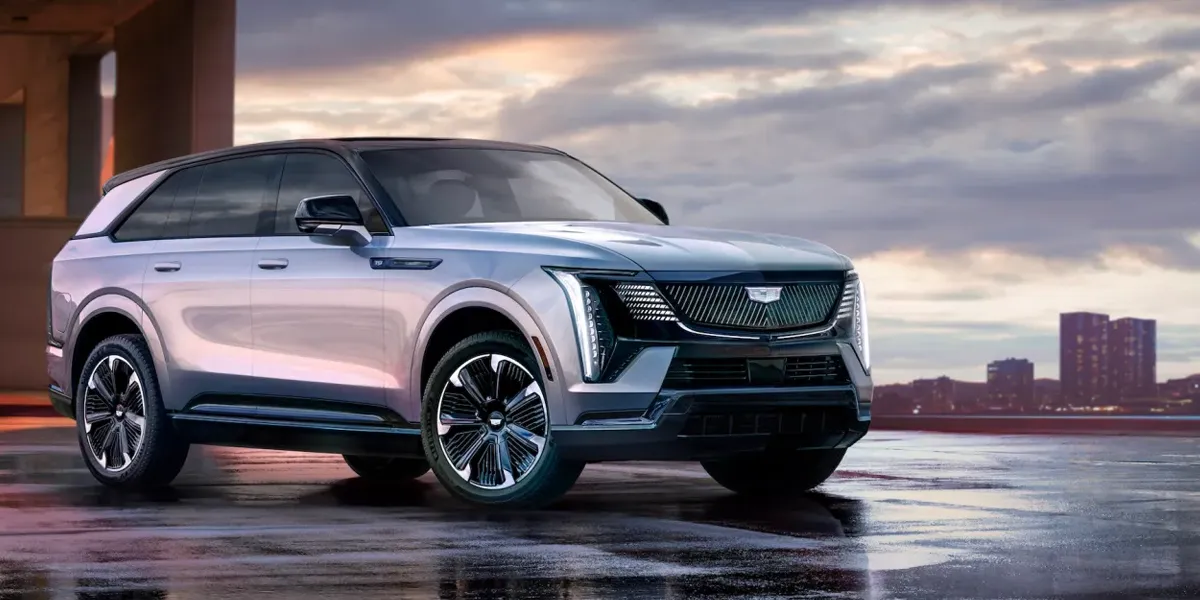 Cadillac revealed the 2025 Escalade IQ, an all-electric luxury SUV that reimagines the driving experience. GM boasts about its iconic design, top-notch craftsmanship, and cutting-edge automotive tech.
Inside and out, the Escalade IQ exudes luxury and boldness. Its design is both captivating and functional. This electric SUV doesn't compromise on performance, delivering power with zero tailpipe emissions.
"Escalade IQ raises the standard just as the original Escalade redefined luxury a quarter-century ago," said John Roth, vice president, Global Cadillac. "This reimagining of an icon marks the next step in Cadillac's all-electric future."
Cadillac's Bold New Aerodynamic Model
Escalade IQ aimed to be the ultimate Escalade regarding driving and maneuverability. Cadillac Engineering and Design worked together closely to make sure the final product lived up to this goal.
This marks Cadillac's first full-size SUV built on GM's innovative Ultium Platform for electric vehicles. It's also the debut of GM's Ultifi software, providing ongoing software updates for its wide range of technologies.
Thanks to its dedicated EV architecture, Escalade IQ delivers on its striking design and impressive performance features. This includes its distinctive silhouette, spacious passenger and cargo interior, and outstanding driving capabilities.
The sleek styling isn't just about aesthetics; it serves a functional purpose too. Aerodynamics is crucial for range and efficiency, so the design team put in an extensive effort to reduce the drag coefficient by around 15%. They achieved this by ensuring the luxury SUV has a streamlined underbody, an active lower intake, and aerodynamically optimized 24-inch wheels.
Buyers will notice other design details that contribute to efficiency and comfort. The vehicle boasts flush-side glass, sharp angular lines, and a fixed glass roof with a UV-filtering film, promising a comfortable cabin experience.
The influence of the Lyriq is evident, especially in the front design. The model features a black crystal shield grille that's fully enclosed, enhanced by dynamic lighting sequences that are sure to grab attention.
Lights have become a significant aspect of Cadillac's design strategy. The vertical headlights sport subtle crests on the sides, while the taillights are slender and more adventurous than those on traditional internal combustion engine models. Complementing these are illuminated door handles and a glowing Cadillac crest on the dashboard visible from outside the vehicle.
"Escalade IQ is first and foremost a Cadillac and delivers on a promise of innovative design supported by spirited performance and cutting-edge technologies," said Jamie Brewer, executive chief engineer, Escalade IQ. "The EV-specific architecture allows us to deliver a driving experience aligned with Cadillac's philosophy of isolated precision — quiet, smooth and effortless with a strong connection to the road for an engaging experience."
Stylish Designs and Luxurious Interiors
Customers can choose a stylish two-tone design with a contrasting black roof that pairs well with a silver exterior and Sport trim: Cadillac showcased silver, black, light blue, and deep red colors.
Size-wise, it's 224.3 inches long, 94.1 inches wide, and 76.1 inches tall, with a 136.2-inch wheelbase. Shorter than Escalade ESV by 2.7 inches but boasts a 2.1-inch longer wheelbase.
Cadillac interiors, improving over time, took a big step with Lyriq and now, with Escalade IQ, rival BMW, and Mercedes in quality and design, making the six-figure price easier to accept. Slight cheapness is seen in the cargo area, though not a major concern.
Cabin design influenced by Celestiq, featuring a 55-inch curved display with integrated speakers, 35 inches dedicated to the driver, centered around Google-powered infotainment for Maps, Assistant, and Play Store.
Power-packed Performance and Impressive Range
The Escalade IQ has a 24-module battery pack, which holds over 200 kWh for about 450 miles (724 km). This outperforms the Mercedes EQS SUV 580 4MATIC by 165 miles and the BMW iX M60 by 162 miles.
Its dual-motor all-wheel-drive system generates 680 hp (507 kW / 689 PS) and 615 lb-ft (834 Nm) torque. This surges to 750 hp (559 kW / 760 PS) and 785 lb-ft (1,063 Nm) in Velocity Max mode.
Although it falls short of the GMC Hummer EV SUV's 830 hp, the Escalade IQ dashes 0-60 mph (0-96 km/h) in under five seconds. It can also tow up to 8,000 pounds (3,629 kg), making it great for hauling boats or campers.
With an estimated range of 450 miles, the Escalade IQ takes driving to new heights. A sweeping 55-inch curved LED display spans the dashboard, while Super Cruise® tech offers advanced driver assistance. Plus, it has bidirectional vehicle-to-home charging with GM Energy's Ultium Home products.
The 2025 Cadillac Escalade IQ will roll out from Factory Zero with a starting price of around $130,000. This marks a notable increase compared to the 2023 Escalade, kicking off at $80,795. However, the luxury SUV matches the performance of the pricier Escalade V-Series, which goes over $150,000.
The Escalade IQ outshines its traditional counterpart in luxury and embodies an evolved Escalade feel. While not everyone's sold on going electric, this move signifies a major stride for Cadillac, attracting fresh faces to the brand.
Learn more at Cadillac