Discover the New FIAT Topolino: An Electric Car for Urban Mobility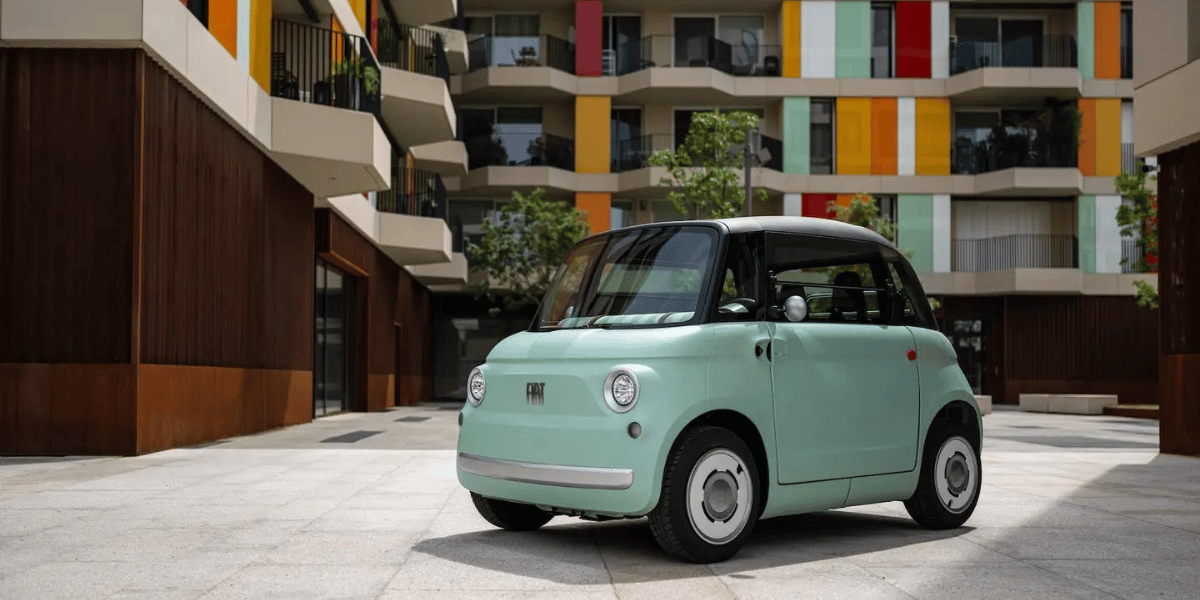 Explore the new FIAT Topolino, an electric car for urban and short-range mobility. With its compact size, stylish design, and commitment to sustainability, the Topolino offers a unique driving experience. FIAT continues its mission to develop sustainable mobility for cities, transforming them into relaxing playgrounds where driving becomes easy and environmentally friendly. The new FIAT Topolino is a joyful and cool electric car that brings this objective to life, making sustainable driving accessible to all.
The FIAT Topolino:
Topolino is the ideal solution for urban and short-range mobility, with its compact size and electric nature allowing it to access any area effortlessly. This vehicle pays homage to FIAT's history and ability to innovate with likability and coolness. It perfectly embodies the New Dolce Vita style and pure Italian beauty.
The New FIAT Topolino appeals to a new target audience with its fresh design and unique accessories, such as the little shower that makes it the perfect beach essential. It even allows driving from 16 years of age (subject to license conditions), expanding its appeal to young drivers.
In addition, the FIAT Topolino showcases the brand's commitment to sustainability. Its electric nature ensures a reduced carbon footprint and sound footprint, contributing to the overall sustainability of urban centers. Despite its small size, the Topolino doesn't contribute to traffic congestion; instead, it becomes the perfect urban mobility device.
FIAT's mission is to revolutionize urban mobility with a fresh narrative. With Topolino, the brand takes a significant step towards complete electrification, greatly contributing to urban sustainable mobility. The FIAT Topolino captivates Gen Z, a young audience that values sustainability and seeks environmentally friendly driving and transport solutions.
The Topolino also caters to Riviera enthusiasts, offering the perfect vehicle to experience the beauty of the Italian summer on narrow coastal roads. It seamlessly transitions between small seaside villages and chaotic city centers, providing an extraordinary duality.
Design Features of the FIAT Topolino:
The FIAT Topolino, the little sister of the FIAT 500, inherits its name and design from the original 500, affectionately called 'Topolino' due to its small size. By expanding the family, FIAT consolidates its leadership in urban sustainable mobility. The Topolino's style, like its predecessor, embraces simplicity as the best companion to its beauty, adhering to the principle of 'less is more.'
Freedom is the key attribute of the FIAT Topolino. Share the joy of driving with loved ones, travel anywhere regardless of weather conditions, and park conveniently wherever you want. Compared to a scooter, the Topolino offers a wide range of possibilities. It can be driven in unfavorable weather, boasts safer construction, and allows you to enjoy journeys with friends or family.
The Topolino lineup consists of two body types: "closed" and "open." While they differ externally, they share structural characteristics, featuring a Verde Vita color, a unique wheel design, and a consistent aesthetic approach to the interior.
Customization of the FIAT Topolino
Due to its extremely compact size (2.53 meters in length), the Topolino is incredibly maneuverable and offers a safe top speed of 28mph. It reignites the desire for stress-free road travel. Both models have excellent electric capability, powered by a 5.5 kWh battery that provides up to 47 miles of range. A full charge takes less than four hours, making it perfect for seaside getaways or daily commutes.
Despite its small dimensions, the Topolino provides impressive interior space habitability. The two misaligned seats and extensive glass surfaces create a spacious perception. Strategic storage spaces, including a compartment between the driver and passenger seat, offer 63 liters of interior storage.
Delicate personalization options are available to enhance the summery Riviera character of the Fiat Topolino. Beach enthusiasts can add a shower designed for those relaxing days spent along the Italian coast. The "closed" version can be customized with wooden effect stickers on the doors, while the "open" version can feature roof stickers with stripes resembling a summer tent. Vintage chrome effect mirrors and the Rear Carriage Dolce Vita Box further elevate the style. Additional accessories, including a spacious rack bag, USB fan, Bluetooth speaker, thermal water bottle, and convertible seat covers/beach towels, are available to meet customers' needs.
The FIAT Topolino will be available in the UK in 2024, bringing Italian beauty and sustainable mobility to urban streets.
News Source: Stellantis