Ample Empowers Mitsubishi Fuso's Electric Trucks with Revolutionary Battery Swapping Tech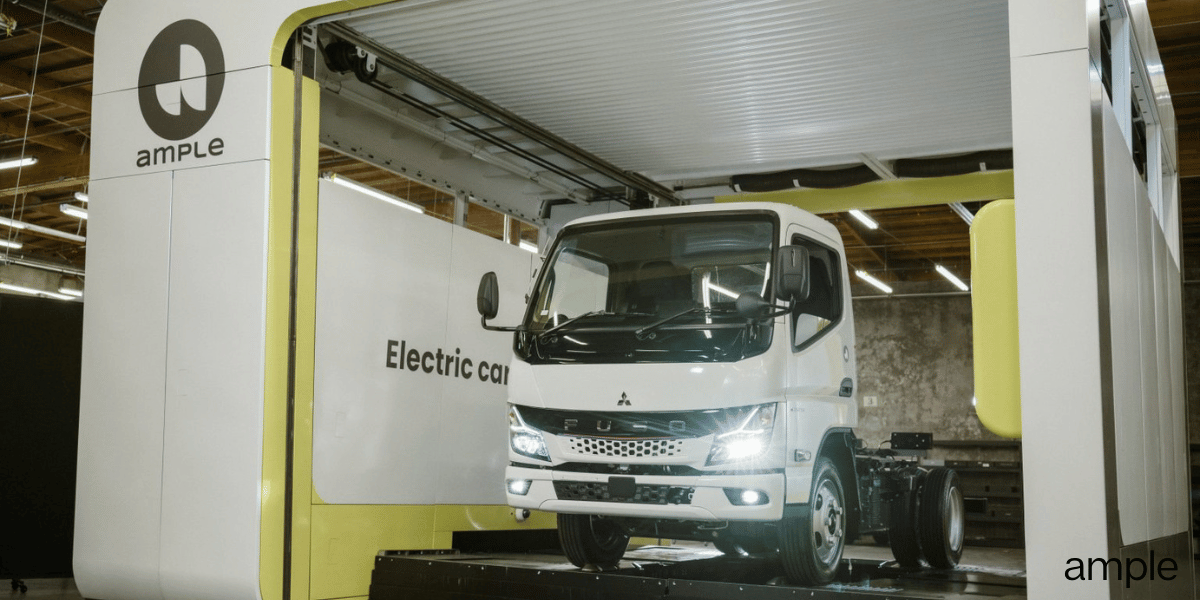 San Francisco-based startup Ample is taking its game-changing battery-swapping technology to a new level by partnering with Mitsubishi Fuso for their electric trucks. This marks the first time Ample's modular system will be utilized in large vehicles. Currently, Ample deploys its technology on a small scale for ride-hail cars in San Francisco and Madrid.
The partnership with Mitsubishi builds on Ample's work with Japanese energy company Eneos. Deploying swapping infrastructure for fleets. While the exact number of switching stations for Japan this winter remains undisclosed. It's a significant step towards electrifying last-mile delivery in Kyoto.
Ample's tech will be integrated into Mitsubishi's Fuso eCanter, a light commercial truck. The number of trucks with Ample's vehicle-agnostic batteries and fleet partners signing on remain undisclosed. Initially, the fleets will focus on last-mile delivery.
The startup's next-gen swapping stations have improved significantly, enabling battery swaps in just five minutes. In comparison, DC fast charging takes much longer. Varying from 15 minutes to nearly an hour for a full charge. Ample's expansion into Japan follows successful station launches in Madrid, where they partnered with Moove, a Madrid-based mobility fleet providing ridesharing vehicles on the Uber platform. Ample received a €10 million grant from the Spanish government for further deployment.
While EV battery swapping has yet to gain traction in the US, it's gaining popularity in other regions like China, where Beijing supports companies advancing the technology as part of its goal to have 25% of all cars sold by 2025 be electric.
Ample's collaboration with Mitsubishi Fuso represents a significant milestone in electrifying last-mile delivery, which accounts for 25-30% of emissions in towns and cities worldwide. Mitsubishi Fuso aims for an utterly carbon-neutral product portfolio in Japan by 2039, aligning with its sustainability goals. The partnership accelerates the adoption of electric trucks, contributing to a greener transportation future.
News Source: Ample