Samsung's Tech Marvels: Unveiling High-Tech Wonders including Galaxy Z Flip 5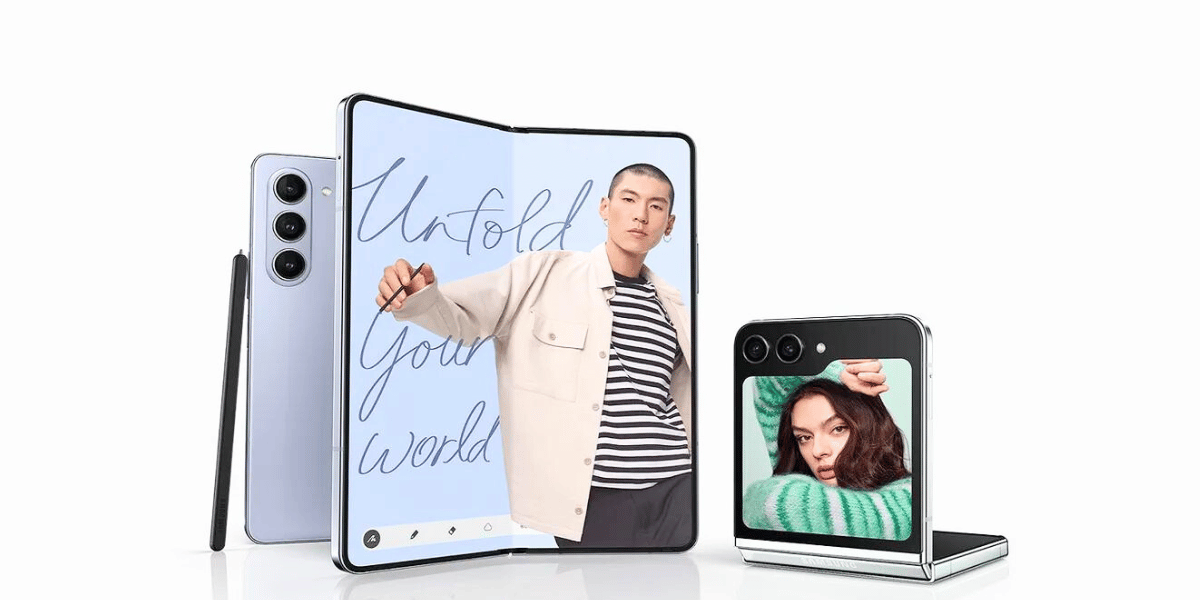 Samsung has again taken the tech world by storm with its latest lineup of cutting-edge devices, unveiled during a highly anticipated event in South Korea. The show's star attractions were the Galaxy Z Flip 5 and Z Fold 5. Two upgraded foldable smartphones have set the bar even higher for the competition.
Galaxy Z Flip 5
The Galaxy Z Flip 5 wowed the audience with its revolutionary Flex Window, a game-changing feature that replaces the previous model's small cover screen with a larger 3.4-inch display. This secondary screen proves to be incredibly versatile. Users can check calendars, send quick replies, and even use full apps like Google Maps and Netflix without unfolding the phone. The Flex Window's larger size and enhanced functionality make it a standout feature in the foldable phone market.
Samsung also addressed user feedback by introducing a new water-drop hinge design for the Z Flip 5. Reducing the crease in the middle of the screen enables the phone to fold completely flat with no unsightly gaps along the sides. This, coupled with IPX8 water resistance and Gorilla Glass Victus 2 protection on the back, ensures durability and longevity for the device. The Z Flip 5 also boasts a slimmer and lighter profile. Making it an appealing option for those seeking portability without compromising on features.
Galaxy Z Fold 5
The Galaxy Z Fold 5, Samsung's pioneering foldable phone-tablet hybrid, showcased notable improvements over its predecessor. The device now supports the S Pen stylus, transforming it into a productivity powerhouse for creative professionals and multitaskers. The inside screen has been upgraded to be brighter and 25% more durable. Promising a superior viewing experience and enhanced longevity.
With the Snapdragon 8 Gen 2 chip powering the Z Flip 5 and Z Fold 5, users can expect seamless performance and lightning-fast speeds. The devices' camera capabilities have also improved with AI-powered Nightography and digital 10x zoom. Further solidifying Samsung's reputation for producing smartphones with top-notch photography features.
Price and Availability
All the newly unveiled devices will hit the shelves on August 11. The Galaxy Z Flip 5 will start at £1,049 in the UK or $999 in the US. While the Galaxy Z Fold 5 will be priced from £1,749 in the UK or $1,799 in the US. Samsung's Tab S9 series will start at £799 in the UK or $799 in the US, and the Galaxy Watch 6 will begin at £289 in the UK or $299 in the US.
With these state-of-the-art devices, Samsung again showcases its commitment to innovation and solidifies its position as a frontrunner in the fiercely competitive consumer technology market. Tech enthusiasts and consumers alike can look forward to getting these high-tech gadgets soon.